Watersheds

Bryant Creek Tributaries

Teeter Creek


Teeter Creek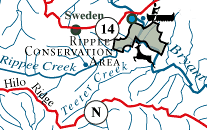 Location:
Teeter Creek has a very small watershed. Located between the towns of Ava and Rockbridge, it is just south of Rippee Creek. Water runs north off Hilo Ridge (Highway N). It is bordered on the east and west by high ridges.
Roads: County Road 14-329 runs on the western boundary ridge for about a mile near the mouth of the creek. Highway N runs on Hilo Ridge to form the southern boundary.
Watershed Size: About 6 square miles.

Topography:
Elevation varies from 1,300 feet above sea level on Hilo Ridge to 800 feet at the confluence with Bryant Creek. Maximum relief is 500 feet.

Stream Flow: According to the topographic maps, Teeter Creek flows intermittently for its entire length.

Landscape & Special Features: Much of the watershed has steep slopes. It is mostly forested.

Topographic Maps: Wasola and Rockbridge.

School Districts: Ava and Skyline.