Education

Skyline

Student Showcase
Skyline R-II School History, written in the spring of 2000 by a group of Skyline students.
Skyline's 2001 Summer School Program took every student on a guided tour and Virtual Field Trip of the Atlas. Students from kindergarten to third grade took the tours. And here are a select group of comments about the Atlas from Skyline 8th graders. They sent them to us by e-mail after taking the tours.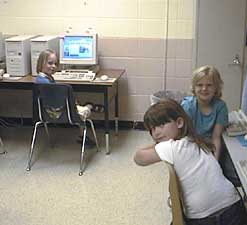 "Wazzup! Your website is cool. It taught me a lot of new stuff.
I liked this website a lot because it showed a lot of pics around where I live.
I really like this program I think that it can really help me sometime in the future. Thanks, for making this program.
I really enjoyed you guys coming to our school today and telling us about the Bryant Watershed and its many tributaries.
I really did like this website because I got to learn about the watersheds around me.
Your web site very neat to look at. I think that there needs to be a little more pictures on some of them. Other than that it is really neat. I hope other people get to see it just as I did.
This site is really super duper. I really liked learning the neat stuff about the Bryant Creek things.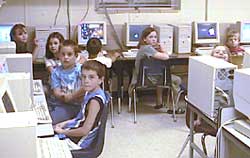 This is the best web site I have ever seen and read. It is a good learning experience."
And from the teacher, Lannie Hinote: "My class just finished with a presentation on the Bryant Creek Watershed Web. They seemed to enjoy this very much. I have found it very useful in several situations throughout the year. Thank you for doing such a great job!"