Outdoors

Boating/Floating

Boating/Floating on the Bryant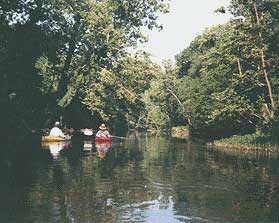 Bryant Creek is a beautiful and challenging float and fishing stream. Many limestone bluffs are found along its banks.
The Bryant is narrow with a swift-flowing current and occasional wider, slower stretches. It is fed by several large springs.
The "Difficulty Rating" for the Bryant is 1 and 2, or Easy and Medium. The Bryant is accessible for boating at all the Public River Access Points.





Sample Floats: Mileage and Times
Put In
Take Out
Mileage
Time
Bell Bridge (at Hwy 95)
Hodgson Mill
9.6
5-6 hours
Hodgson Mill
Warren Bridge (Cty. Road 328)
7.6
4-5 hours
Warren Bridge
Tecumseh
9.7
5-6 hours
Check out our watershed map to see where these places are.

The overall gradient of the Bryant is 5.8. The gradient of a stream is the number of feet per mile that it drops. This number gives an idea of the speed of travel on the water and is an indication of difficulty. The lower stretches have less gradient and are thus less difficult. The river above Bell Bridge on Hwy 95 has a gradient of 7.8, so the upper river is faster. Floaters should inquire if the river above Hodgson Mill is floatable without dragging in times of low water.