Education

Mansfield Student Showcase
Mansfield Students Ask Questions about Karst and Bryant Creek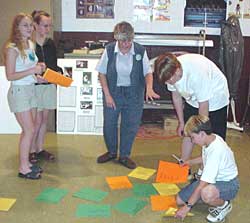 BWP staffer Lois Reborne works with Mansfield seventh grade students on the brainstorming questions exercise.
Students in Mansfield Jr. High School participated in piloting lesson plans using the Bryant Watershed Atlas. In preparation for classroom presentations on karst topography by Denise Henderson Vaughn, John Hinsley's seventh grade life science students read the introductory material on the Atlas.
With their curiousity aroused, they then used a brainstorming exercise to develop questions about karst and the watershed. The classes then selected their favorite questions, and listened for answers in Ms. Vaughn's talk.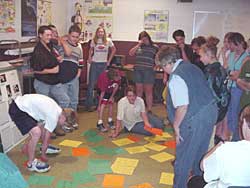 Working through the exercise was a learning experience for the Bryant Watershed Project staff as well as the students. Many great questions were put together by the students. Many of the answers are found in Ms. Vaughn's presentation, and many can also be found in the Atlas by using the search engine. Some, however, are not, and some of those caught our attention.
Here are a few we began working on right away:
What is the altitude at Bryant Spring (in the headwaters area of Bryant Creek)?
A topographic map of the area shows Bryant Spring at 1100 feet. Several readings with a GPS unit averaged out to 1130 feet.
Where is the deepest part of Bryant Creek?
The deepest parts are usually found at "holes" along the floatable section of Bryant Creek, particularly between Rippee Creek and Hodgson Mill.
Who found Bryant Creek? When?
We don't know for sure. Native Americans explored this area thousands of years before non-natives came here. The earliest Europeans here could have been French traders. Early maps of this area show "Bryant's Fork" or "Bryant's River." Who was the "Bryant" Bryant Creek is named for? If you find out, let us know!