Communities

Norwood

Norwood School History
Histories, drawings and timelines
by 6th graders in Penny Roberson's class in the spring of 2001
History of Norwood School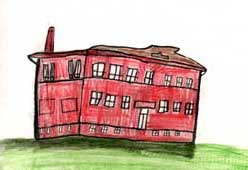 Norwood School in 1920
Drawing by Travis Reed Norwood 6th grade
In 1881, our town was developed. The Federal Government gave us land along the railroad. The train was hauling people and freight. Norwood didn't have a lot of people.
Our school was established in 1883. Here is a brief description of our school. One room crude log cabin and it had a dirt floor. Our school was located south of the railroad tracks. Around 1887 our school burned down. In 1887, the people of Norwood raised bonds so they could build a second school. They raised enough, so they were able to build that second school they needed. The children walked to school because they did not have buses to pick them up and drop them off. The people divided the county into sections and each held a school. There were 36 square miles per school district. The district has grown to take in neighboring districts.
In 1920, the town had a new school building. Here is a little about what it looked like. It was a three-story block and stucco building. Also, several districts joined us. In 1928, our town built a gym at present site. They gym ran east and west. It was the best gym in the area. It had a wood frame with metal on the outside. In 1985, our gym burned down. It happened on Thanksgiving night at 7:30 p.m. They had finished insulating the gym. The Community Fire Department helped remove the pictures that were scorched, removed thermostats, and they also removed student records. The wind from the east blew the fire away from the rest of school. They also built a new gym.
In 1949, the state mandated that schools needed to be reorganized. Old one-room schools were considered inadequate to teach students. Outlying schools had the choice of which school to attend. Norwood R-I became the first school in Wright County to be reorganized. In 1951 a new elementary was built because of more students. The children brought their own lunches. The school bought old army barracks, which were used for industrial arts and for the cafeteria.
By the late 1950ís, old three-story schools were inadequate. They started to build a high school, which was completed in 1960. Money was raised from property taxes and the state, and federal government.
In the beginning all the money came from local people. Between the 1960s and 1970s our town was growing, so we had a need for more space. In 1970 our school had a metal building, which was the high school. In 1986, a new shop was built. In 1987, our new gym was finished. We also got a new elementary addition. Between 1990 and 1995, the two story for the elementary was made of brick. In 1999 we had a new high school.
Here is a little bit of the number of students in our school. 1920s there were 24 to 40 students. 1979 there were 300 students. 1999 there were 500 students. Here is a little bit about the budget of our school. In 1938 we had $11,557 and in 2001 we are close to 4 million dollars.
By Angelica Yukne, Norwood, MO, USA, Norwood R-I, Grade 6, Teacher: Penny Roberson.



Norwood School History
Norwood exists because of the railroad that came through in 1881.
In 1883 Norwood's first school was built. It was a little house with one room. Not very many people went to the school. It burned down in 1887. In 1920 a three-story building was built for a school. There was a gym in 1928 that stood where our current gym stands now. It was the best gym around. Unfortunately it burned down in 1985 about 7:30 p.m.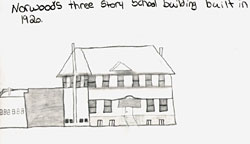 Norwood's three-story school building, built in 1920.
Drawing by Kat, Norwood 6th grade
We are R-I and it stands for Reorganized First. We reorganized in 1949. In 1951 the elementary school was built. We had to buy army barracks for a cafeteria lunch. In the late 1950s we built a new middle school building that was completed in 1960. A real cafeteria was built in 1975. We started constructing on the shop. Then we built a new part of the elementary school in the mid 1990's and completed it in 1995. Then we built our high school in 1999.
In 1994 our school was accredited and in 1999 our school was accredited with distinction. Our school was always elementary through high school.
In 1979 the school's population was about 300 students, then it grew to about 500 students. Bus transportation began around the 1940s.
In 1958 the school's total budget was $11,557.00. 1999 to 2000s budget was over four million dollars and this yearís (2000-2001) is really close to 4 million dollars.
By Faith Aldridge, Norwood School, Grade 6, Teacher: Penny Roberson.



History of Norwood School
When a railroad came through in 1881, Norwood became a town. A school was built a couple of years later in 1883. It was a one room schoolhouse that was small and had 5 or 6 students. It burned in 1887. A new school was built in 1920. The gym went east and west. The gym burned in 1985.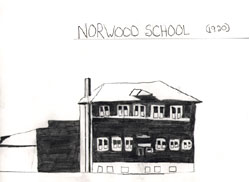 Drawing by John Gray,
Norwood 6th grade
R-I means reorganized. Our school was the first school to reorganize. In 1951 the elementary was built. The high school was completed in 1960. The old school was torn down in the same year. The high school was built in 1975. The shop was built. The new gym was built in 1987. Three classrooms were built on the elementary. The brick school was built in 1985, the same year the gym burned down. The new high school was built in 1999.
The school was accredited in 1994. It was accredited in 1999 again with distinction.
In 1947 our budget was 11,5000 dollars. Now our budget is over 4 million dollars. Whoa!
The old school didn't have hot meals or cooks, so kids had to bring their own lunches. It usually wasn't very much. Kids didn't have PBJs or Lunchables like we have. It was usually bread or a roll.
I think it would be cool to see what our school would be like in 10 years or even 100 years. So the kids 10 or 100 years from now can find out what their school was like 100 years ago.
I thought it was interesting to find out what school was like lots of years ago! I thought it was kind of cool.
By Laurel Shores, Norwood, MO, USA, Norwood R-I, Grade 6, Teacher: Penny Roberson



Timelines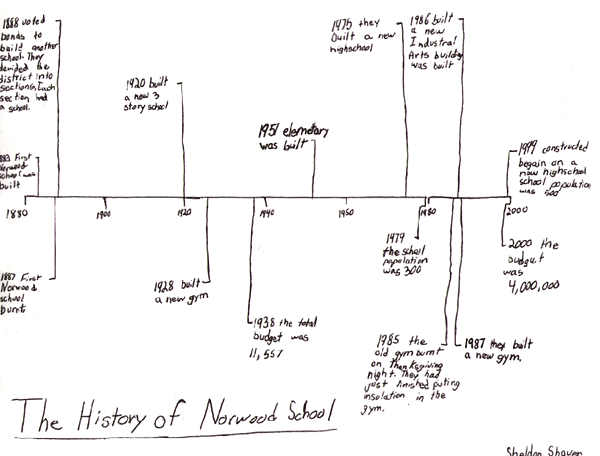 Sheldon Shaver, Norwood 6th grade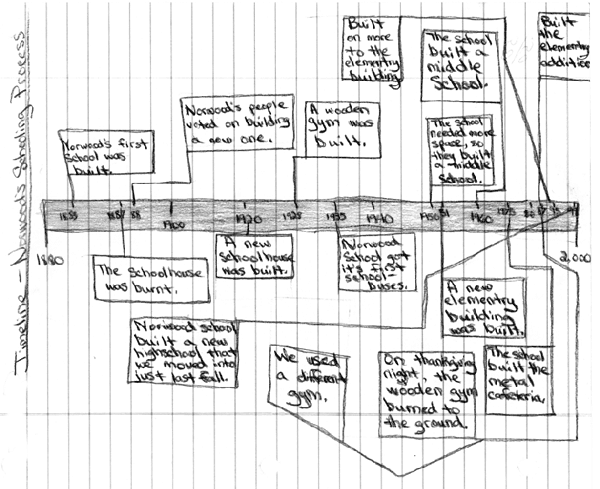 Lorna Shudy, Norwood 6th grade