History

Early Settlers

Tom Brown


Tom Brown
Tom Brown came to the Bryant Creek country from Indiana in 1844, and lived for a while in the cave that bears his name, on the river near Rippee Creek. He was a Methodist minister and held religious services at the cave for several years.
Tom Brown was a blacksmith whose services were in demand in the area, so he decided to build a blacksmith shop before building a house. Tom cut pine trees for logs for the walls. He notched the logs to fit together when stacked.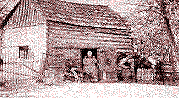 The shop was about sixteen by twenty feet wide. Several men in the area helped him stack the logs and fit the notches together. The roof was made of clapboards split from pine. The forge was made of rocks stacked about two and a half feet high. An iron grate was set on top of the forge to hold the charcoal. Bellows for blowing the fire were made from tanned deer skins. He put his anvil in front of the forge. He brought tongs with him from Indiana to hold the hot metal, and iron for shaping.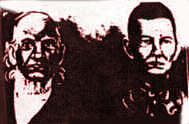 His house was also made of logs with a clapboard roof, but it was fancier inside than the shop. The floor was made of boards sawn at the sawmill up the creek at Redbud (now Vera Cruz.) A loft was also made of sawn lumber. Tom made the chimney of rocks, with a wooden mantle board. He made a bed of wood and stuffed the mattress with wheat straw that he got by trading blacksmithing work.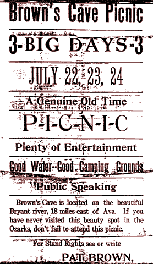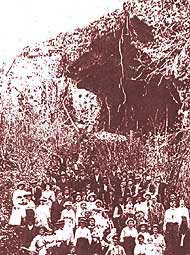 In years past, Brown's Cave was a popular site for school and family gatherings. The poster at the far left advertises a picnic at the cave. The photo is of an Easter Sunday gathering at the cave in April, 1916.
Now the area has returned to its natural state and is a local landmark. Brown's Cave is located 20 miles or so southeast of Ava, and about 6 miles from Vera Cruz.









Sources: The Black Kettle Ride, Cinita Brown, Ozark Publishing, Inc., and Rob and Gail Brown, descendants of Tom Brown.