History

Douglas County


See also: Early Settlers in Douglas County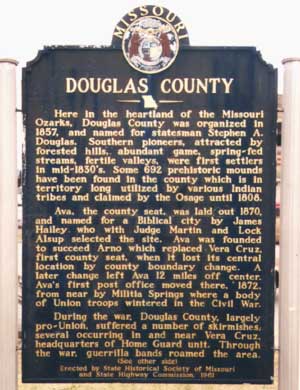 Douglas County Historical Marker on the town square in Ava. Erected by the State Historical Society of Missouri and the State Highway Commission, 1961. The text on the sign reads as follows:
Here in the heartland of the Missouri Ozarks, Douglas County was organized in 1857, and named for statesman Stephen A. Douglas. Southern pioneers, attracted by forested hills, abundant game, spring-fed streams, fertile valleys, were first settlers in mid-1830's. Some 692 prehistoric mounds have been found in the county, which is in territory long utilized by various Indian tribes and claimed by the Osage until 1808.
Ava, the county seat, was laid out in 1870, and named for a Biblical city by James Halley, who with Judge Martin and Lock Alsup selected the site. Ava was founded to succeed Arno, which replaced Vera Cruz, first county seat, when it lost its central location by county boundary change. A later change left Ava 12 miles off center. Ava's first post office moved there in 1872, from nearby Militia Springs where a body of Union troops wintered in the Civil War.
During the Civil War Douglas County, largely pro-Union, suffered a number of skirmishes, several occurring in and near Vera Cruz, headquarters of Home Guard unit. Throughout the war, guerrilla bands roamed the area.
Douglas County's cultivated hillsides and valleys, supporting fine dairy and livestock farms, contrast with its timber producing hills and ridges. Much of the county area, which was harvested during the lumbering boom of the early 1900's, lies in Mark Twain National Forest, established in 1930's. Lead and zinc have been mined in the county.
By 1910, the agricultural and lumbering productivity brought the Kansas City, Ozark & Southern Railroad. Built from Mansfield through Bryant to Ava, it had an uneven success and ceased operation in 1935. Among early settlements were Rome, Topaz, and Arno. Communities founded after the Civil War include Drury, Squires, Denlow, Sweden, and Vanzant. Among later settlements are Brushy Knob and Smallett.
Douglas County, lying in a resort region, is noted for scenic forest drives, springs, and streams including Bryant and Beaver Creeks and Little North Fork River. In an area of great scenic beauty southeast of Ava is the monastery of the Cistercian Monks of the Strict Observance (Trappists) dating from 1950, made Assumption Abbey, 1956.