History

Ozark County


Ozark County Historical Marker on the town square in Gainesville. Erected by the State Historical Society of Missouri and State Highway Commission, 1961. The text on the sign reads as follows: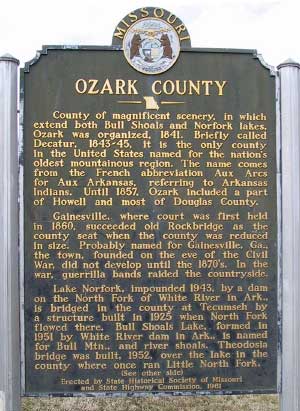 County of magnificent scenery, in which extend both Bull Shoals and Norfork lakes; Ozark was organized, 1841. Briefly called Decatur, 1843-45, it is the only county in the United States named for the nation's oldest mountainous region. The name comes from the French abbreviation Aux Arcs for Aux Arkansas, referring to Arkansas Indians. Until 1857, Ozark included a part of Howell and most of Douglas County.
Gainesville, where court was first held in 1860, succeeded old Rockbridge as the county seat when the county was reduced in size. The town, founded on the eve of the Civil War, did not develop until the 1870's. In the war guerrilla bands raided the countryside.
Lake Norfork, impounded in 1943 by a dam on the North Fork of White River in Ark., is bridged in the county at Tecumseh by a structure built in 1925 when North Fork flowed there. Bull Shoals Lake, formed in 1951 by White River dam in Ark., is named for Bull Mtn., and river shoals. Theodosia bridge was built, 1952, over the lake in the county where once ran Little North Fork.
A resort, livestock, and timber producing county, Ozark is in the 1808 Osage Indian land cession. Other tribes roamed the area into period of settlement by Southern pioneers in the 1830's. Bypassed in railroad building boom following the Civil War, the county grew slowly. The virgin pine forest was lumbered off by early 1900's, and iron and zinc have been mined intermittently.

Among many communities founded by the early 1900's are Bakersfield, Dora, Ocie, Romance, Nottinghill, Zanoni, Noble, Brixey, Hammond, Dugginsville, Elija, Foil, Souder, Longrun, Howards Ridge, Wasola, Almartha, Hardenville, Sycamore, Thornfield, Wilholt, Udall, Trail, Tecumseh, Pontiac, Isabella, and Theodosia (Lutie). Ozark County, by 1960, had more post offices, with 29, than any other county in Missouri.

In Ozark County are Aid-Hodgson and Dawt mills in scenic Bryant Creek valley; Zanoni Mill on Pine Creek; Rockbridge Mill on Spring Creek; and Caney Mtn. Wildlife Refuge. Part of the county lies in Mark Twain Natl. Forest founded in 1930's. Many prehistoric mounds remain in the county.