Old Water Mills in Bryant Watershed
The Bryant Watershed has three famous old water mills. Rockbridge Mill, on Spring Creek, near Brixey, is now the site of the Rainbow Trout Ranch, a popular fishing resort. Hodgson Mill, built right over Hodgson Mill Spring, is located on Highway 181 where the road crosses Bryant Creek. Zanoni Mill was powered by a spring that falls out of a bluff. The spring branch flows into Pine Creek.
Built in the 1890s, both the Hodgson and Rockbridge mills are over 100 years old. At one time, Zanoni Mill and Hodgson Mill produced electricity from water power to run sewing machines used to make Big Smith overalls!
Rockbridge Mill was built in 1892 as a grist mill to grind wheat and corn into flour. It was built over Spring Creek, where four springs flow in from the creek bottom. Power came from turbines set in the creek. The turbines were turned by the fast moving water. Belts and pulleys from the turbines ran the grinding machines.
Rockbridge was once the county seat of Ozark County and is one of the oldest towns in the Bryant Creek watershed. There was a school, a bank, a post office and a store in the valley. Water also powered a sawmill and a cotton gin (used to separate seeds from raw cotton). Today, Rockbridge is a busy fishing resort. You can still go into the old mill building, which now houses the restaurant bar as well as a viewing area above a popular fishing spot. The grounds now include a trout hatchery, motel and a restaurant where successful anglers can have their catch prepared to order.

More about Rockbridge:
Rockbridge History
Rockbridge Spring
A Tour of Rockbridge Trout Hatchery


Hodgson Mill
There are bags of flour in grocery stores across the nation that show a picture of this mill on their cover. The flour used to be ground at Hodgson Mill, but now is ground at a modern factory in Gainesville. Hodgson Mill sits right over the 15th largest spring in Missouri. From the mill, the spring branch flows 600 feet into Bryant Creek. Alva Hodgson built it in 1897 to grind flour from wheat and corn. Ten years later, Hodgson sold the mill to his brother and built Dawt Mill, on the North Fork River.
A sawmill and cotton gin also stood in the valley. A general store and post office completed the little community, still called Sycamore today. Long before there were power lines, electricity made on site from water power gave the mill and store electric lights. The power plant stands idle today, but is said to still be in working order. Electric industrial sewing machines in the store building were used to make Big Smith overalls.

More about Hodgson:
Hodgson Mill Spring
Hodgson Mill Restoration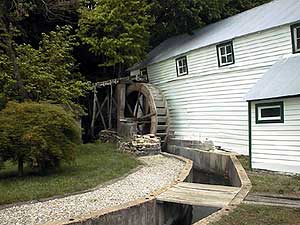 Zanoni Mill
Someone, we don't know whom, built a mill and began milling flour, feed, and cornmeal at the mysteriously-named Zanoni community, on spring-fed Pine Creek, about the time of the Civil War. At the turn of the century, the property was purchased and a new mill, complete with sawmill, was constructed by John Cody and George Shoemaker. It is said that the upper floor of that mill served as a dance floor for social events for some time before being destroyed by fire in 1904. The fire, however, did not destroy the iron machinery or the mill stones, and in 1905 it was rebuilt by A.P. Morrison.
Morrison later sent to France for a new set of 18-inch flint buhrstones that could grind 20 bushels of corn per day. He took one-eighth of the corn ground as payment. In 1940, Morrison designed and built a rare overshot waterwheel to replace the original. The mill is no longer in operation, but remains in the family.

More about Zanoni:
Zanoni Mill Tour
Zanoni Spring

Sources: Grist Mills and Covered Bridges, University of Missouri Press; A History of Ozark County,Ozark County Historical Society; A Living History of The Ozarks,Phyllis Rossiter. Written by Hank Dorst and Marideth Sisco.