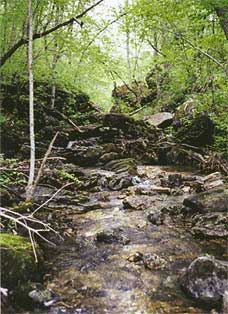 The Headwaters Area of Bryant Creek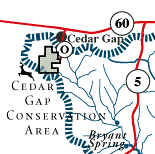 As a concept, the headwaters of a stream sounds dramatic -- the place of its beginnings, the source, and all that. When you go to search out such a place, however, the results of your search can be much more subtle, if no less significant.
Like many an Ozarks stream, Bryant Creek doesn't begin with a single water source. Seeps, small springs and unnamed drainages account for its beginnings. Not until it reaches its first major contributor, Bryant Spring, does it even look like a real stream. At Bryant Spring it becomes perennial for several miles, until at Dry Creek it disappears underground. Above Tarbutton Creek it resurfaces, and resumes its flow as a year-round stream.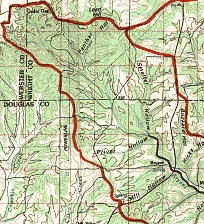 Protecting the Headwaters of Bryant Creek
The Cedar Gap Conservation Area is 391 acres of deep timbered ravines that contain some of the headwaters of Bryant Creek. Several springs join together to create a small, clear creek that continues to meander down the Ozarks to become the floatable Bryant Creek. Limestone boulders and shelter caves are scattered throughout this property. Walking through this area is like taking a step back in time.
Nearby Lead Hill is the second highest point in Missouri. The headwaters drop some 400 feet in elevation before leaving the protected conservation area. The land was purchased through the generous efforts of a number of individuals, organizations, and corporations. It's now managed by the Missouri Department of Conservation.
From U.S. 60, turn south on state route O and follow it through the village. Just past where the houses stop, a gravel road turns right and crosses the railroad tracks, then turns left and stops at the entrance to the conservation area.