Spring River

Galloway Creek Nature Park

Opening Celebration and Urban Conservation Practices
Galloway Park Demonstrates Urban Conservation Practices:
Streambank Restoration and Rain Garden
Opening Celebration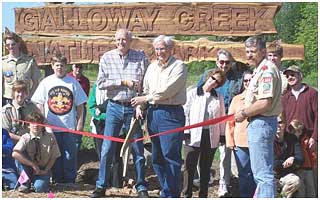 The official opening ceremony of the Galloway Creek Nature Park was celebrated on Saturday May 13th, 2006 with a ribbon-cutting by Mayor Joe Paul Evans and Missouri Department of Conservation and Department of Natural Resources officials.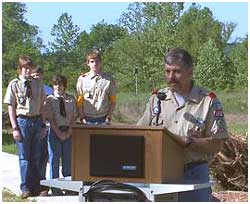 Galloway Creek Advisory Board President Chrys Fisher recognized the many collaborating groups and private citizens who have made the park possible. [see photo gallery]
Boy Scout Troop 160 Scoutmaster Kevin Smith recognized the contributions of the Boy Scouts, including planting native grasses in a large field and cataloging Native American artifacts that have been found on the project site for the interpretative center in the community building. [see park map]
Urban Conservation Practices
Those present visited with professional and amateur naturalists about the plants, animals and history of Galloway Park, as well as the improvements ongoing. Galloway Park features several projects that are part of the Storm Water Management Program being implemented by the City of West Plains.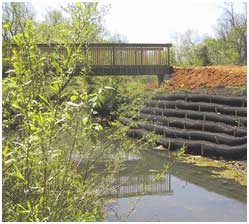 Stream bank restoration with native grass seed
The stream bank restoration project demonstrates sediment and erosion control techniques, using tubular fabric filled with compost and inter-seeded with switch grass. Seed was provided by the Missouri Department of Conservation Private Lands Program in Howell County. The advantage of this stabilization project is that it not only supports vegetation and resists future erosion, but it was very easy to install. It took less than an hour to install this area.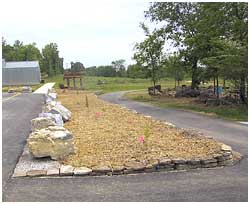 Parking Lot Rain Garden
The parking lot rain garden is designed to capture runoff from a one-inch rainstorm. The design was done by staff at the NRCS-South Missouri Water Quality Project and was installed with help from the Howell County Soil & Water Conservation District and the City of West Plains. The concept of this rain garden is to deter excessive runoff and subsequent erosion by creating a basin for infiltration. This rain garden is fortified by a natural rock retaining wall and filled with mulch, compost and soil in order to support a number of native plants such as Shrubby St. John's Wort, Witchazel, Beautyberry, and Buttonbush. A perforated pipe and associated riser was installed to handle excessive rainfall events and saturated conditions.

return to Galloway Park main page

Galloway Park map with photos and directions

Photo Gallery: some of the people who have made Galloway Park possible

Earth Day Workday at the Park

Sources: The Upper White River Review, April 2006 newsletter of the South Missouri Water Quality Project, a USDA-NRCS Water Quality Office, http://www.nrcs.usda.gov/. The West Plains Daily Quill, Wednesday, May 17, 2006