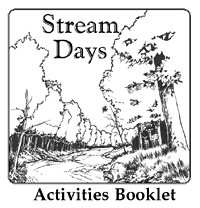 Students look over the booklet for some ideas about what will take place at the stream. Time for journaling and reflection is incorporated into the booklet. A scoring guide is included to prepare students for how they will be evaluated. A supplemental Teacher Resource Guide is provided.
Activities during the day:
calculating water quality based on macroinvertebrate sampling
measuring water chemistry parameters
visually assessing stream characteristics
observing the effects of erosion through use of a stream table
understanding overall watershed usage.
Who leads the activities?
Professionals from the Missouri Department of Conservation, Stream Team members, and retired science teachers will lead the activities. College students from Southwest Missouri State University-West Plains and members of the Missouri Master Naturalist program will volunteer to aid the professionals.
Overall Objectives:
Water Quality can be monitored with diversity of macroinvertebrates.
Stream life is dependent upon oxygen in the water and diversity of habitat.
The riparian corridor has an effect on stream habitat and water quality.
Overall water quality is a reflection of the watershed.
Natural and human activities can alter the level of dissolved oxygen.
Stream erosion is a natural process accelerated by poor land management.
Accelerated erosion can negatively impact water quality and stream life.
Correlation to the Show-Me Standards
Prior to Visit:
Content Standards CA 3, SC 5
Process Standards Goal 1- 1 Goal 2 ­ 1
Stream Visit:
Content Standards SC 3, 4, 5, 8
Process Standards Goal 1 - 3, Goal 2 - 1