Outdoors

Stream Days

Stream Days 2004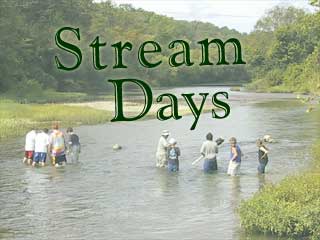 In 2004 we held two multidisciplinary field days at Hodgson Mill on Bryant Creek, featuring experiential activities covering water quality, karst, aquatic habitats and other topics.
Schools attending were: Gainesville 7th grade, with teachers Mindy Peirce and Larry Lindeman; Willow Springs 8th grade, with teacher Mary Ann Mutrux; Dora 7th grade, with teachers Linda Blackwell and Crystal Leroy, and the Dora High School Stream Team, with teacher Sandy Letterman. Four field professionals facilitated the activities, assisted by Missouri Master Naturalist volunteer Pat Hight.
Gainesville 7th grade and Dora High School Stream Team students wrote poems about their experience at the creek.
Stop the pollution
by Bonnie Hogue, Gainesville 7th grade

Dumping chemicals in a creek
Makes the ecosystem quite meek.
Dumping chemicals is mean,
It makes the water slimy green.
Help the poor bugs,
When they're down on their mugs.
Stop the pollution,
With help we can find a solution.
Water affects us even if we're miles away,
So help the critters, start fighting today.
All our lives depend on water,
Let's not give the poor bugs a slaughter.



Getting their feet wet, these students collect
specimens for the water quality monitoring activity.
Then they pick out the stream invertebrates. The types and number found determine the quality of the water in the stream. More on Water Quality Monitoring

Dora students perform a biomonitoring experiment:
testing for dissolved oxygen.
There are many types of pollution
by Kameron Carmichael, Dora High School Stream Team

There are many types of pollution
That have no solution
There is point and non-point alike
Streets so dirty you can't ride a bike.
One is point which includes a smokestack
When it is around the water's taste will lack
The other type is non-point also known as runoff
Like all those litterers out there playing golf.
So let me tell you something if you ever see it.
just in case.
Stop to smell the roses because someday there might not be a place
If you ever see it happening just try and do your part
When you get older you will see that it was smart.

Students with MDC educator Melanie Carden-Jessen learn about the stream corridor and what lives there.
Students and Willow Springs teacher Mary Ann Mutrux keep track of their finds.

Our streams and rivers
by Kandace Necole Newton, Dora High School Stream Team

Our streams and rivers
Give great pleasure,
To amounts that we
Could never measure.
Always keep them clean
And full of pride,
and never drive through
them with your ride.
If you pollute them
Or try to ignore,
There will be nothing
For future generations to adore.
The river sparkles like a
Million shiny dimes,
As though it's touched the hands of time.
There are many creatures that
Thrive in our waters,
Let's help protect them
For our daughters.
From this, all I'm trying to
Say is,
Let's protect them for future days.


Students see a demonstration of erosion at work in the stream table model. More on the Stream Table

Bryant Creek Poem
by Chad Smith, Gainesville 7th grade

We went to the creek
Earlier this week
We saw some creatures
And all their features
We got all wet
Catching bugs in a net
We got dried off
Learning about runoff
We took a test
And tried our best
And the crawdad in the creek
Would snap at our feet.

The Dora High School Stream Team served as volunteer aides at each activity station during one of the field days.
The Stream Days field professionals from the Missouri Department of Conservation, left to right: Melanie Carden-Jessen, Dave Mayers, Mary Palmer, and Bob Schultz.

Stream Days Photo Gallery

Photos for student use in class projects as outlined in the Stream Days Activities Booklet.

Teacher Information and Downloads

Master Naturalist's Notebook

The development of content for Stream Days is funded through the Missouri Department of Natural Resources. U.S. Environmental Protection Agency Region VII, through the Missouri Department of Natural Resources, has provided partial funding for this project under Section 319 of the Clean Water Act.